I had the opportunity to review Atari's Backyard Sports Sandlots Sluggers game for the Wii. I had my two older kids check out the game since they are much better at playing games on the Wii than I am. I also let one of their friends play it and asked him what he thought. My daughter and my kids' friend both said they liked playing it. My son isn't really into sports yet so I got a more ambivalent response from him.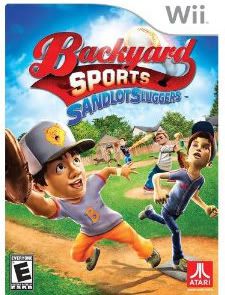 About the game:
Sandlot Sluggers is a baseball game for kids. It's really cute. There are several different modes you can play including family fun mode, playoffs, story, and season mode. So far I have only tried the season mode. The game is played following the same rules as a traditional baseball game except that it is played in a backyard setting with fun characters. You can also earn power ups during the game. These are really funny and make the game more kid friendly.
You can see more about power ups and check out the game here.

Here is what I think of the game:
I really enjoyed this game. I am not a big game player but my kids like to play games. This is a game that we could play as a family and have fun. The game was relatively easy to play but we still have some things we are trying to figure out. All the reviews I have read said the game controls were intuitive and easy for kids to use, which they are, but it still took me a while to figure out what I was doing with batting and pitching. I have played other adult baseball games so I thought this game would be really easy for me, especially since it is geared for kids. The controls are much simpler than other games I have played but I still found it challenging.
I am not used to playing the Wii yet (it is a lot different than other gaming consoles) so I think I just need more practice. You swing the bat much like you would in a real baseball game and my swing is just off. I still haven't mastered pitching and none of us (the kids and I) could figure out how to throw the ball to different bases even though the instructions looked really easy. Since I couldn't figure this out, whenever it was my team's turn to pitch I did poorly. My husband, however, played it for just a couple of minutes and did just fine. He had no problems with pitching, batting or throwing, so I think I may just need him to give me a little help figuring it out.
All in all this was a great game. I would purchase this game for my kids. It is an affordable and fun game, priced at $29.99. I like that my kids can play this together. Plus, I know the kids enjoyed it because they played it for quite a while and mommy got to get a little break.
*This game was given to me free of charge for the purpose of this review.
Tags: Backyard Sports, review, Sandlot Sluggers, Wii