Posts Tagged 'cancer'
Tuesday, September 13th, 2011 by
by Haveyroo
Friday, June 10th, 2011 by
by Hesperleigh
A while back I shared with you a great organization called Chemo Angels. They are a volunteer organization dedicated to providing encouragement to those undergoing IV chemo treatment. It doesn't take much time or money to participate and according to Lana and countless other patients, it makes a huge difference in their lives. She once told me that my cards often seemed to come at a time when she needed some cheering up and that they always seemed to do the trick. That just makes my heart swell and my eyes tear up a little because it just plain feels good to know that you're truly brightening someone's day and especially at a time when that person needs it the most. If you're interested in learning more, please go to the Chemo Angels website and sign up. It takes several weeks to get paired and you're even able to request that your patient be within a certain age group or gender. You'll have plenty of time to stock up on cards and/or little gifts depending on which type of "angel" you'd like to be.
I applied to be a "Chemo Card Angel" last August (more…)
Friday, February 11th, 2011 by
by JM Guest Blogger
I really just want to send out lots of love and thanks to all of you!
I can't tell you all how amazed our whole family is and how wonderful you all have been when it comes to the situation that we are dealing with.  Many of you (well, let me say most of you) I have never met before, and you all have come together to do something so amazing and wonderful for us that I can't even begin to tell you how much we appreciate it.
Our main focus here is to get rid of the cancer, keep Emily happy and as healthy as we can keep her.  And you all are helping in everyway that you know possible and I have to tell you that it really means a lot to our family that you all are doing this for us.
We have totally had to change our lives around and of course we are happy to do that to do what we have to do to get her better.  We have changed our eating habits and we are now eating all Organic foods.  While it is very expensive, we know it better not only for her, but for all of us after all the reading we have done about it.  I now make and prepare meals to take to the hospital for Breastfast, Lunch and Dinner, so my days at home as they always were busy, are even more busier.   I have even changed the way I cook, because I now cook homemade, because it is much better for us then using prepared organic goods.  (I made a roasted chicken with herbs last night…to cut up for other meals, and it was awesome!!)  I don't buy things in a tin, a can, a box, or any of that, all of it is organic and I prepare it all. We have changed the way we make sure things are sanitized.  We have always made sure to sanitize, but in terms we have never been so anal. Seriously, we have had to change that and wash our hands as often as possible and even when I'm at work, it has become a habit. We have changed how we think about things and how we react to things!  So, life as we once knew it, is now something that is totally different and we are ok with that.  Anything to keep our daughter healthy and the rest of us too!  So, the Coupon Mommy of 3, has to find new ways to save money and has already started looking into organic deals and how I can save money there!
My post is here because I want to say thank you!  Thank you all so much for the amazing work that you all have done, are doing and continue to do for us.  Your love, your comments, your support, your prayers all mean everything to us.  We do read every comment on Facebook, Caring Bridge, the blog and they partake in our life, I am sorry that I am not able to respond to them, but we do read them.
THANK YOU AGAIN!
Caring Bridge — Emilys, soon to be transferred over to http://www.emilyhubbel.com/ (make sure you are following her blog there, because once we get it all updated, we will start updating information there about Emily!)
Friday, January 28th, 2011 by
by JM Guest Blogger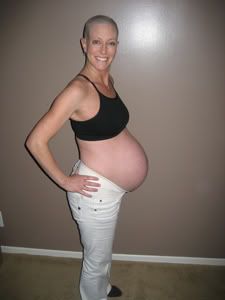 The title of my blog and this first page warrant a bit of explanation. Clearly, I was Bald. And clearly I was Fat. However, when you come to realize that my baldness was caused by chemotherapy and my 'fatness' was caused by being pregnant at the same time, then the mere fact that I was smiling in this photo is evidence that I was also Crazy. Add to this scenario the pending adoption of a baby girl and the Crazy goes to a whole new level.
But what about 'The Musical'?" What is that all about?
Well, in order to survive my situation as best as I could, I needed to develop some serious coping skills. Exercise has always been my usual mechanism for dealing with stress. However, that wasn't an option much of the time for reasons which I will explain later, so music became a major source of therapy. Often I would put on my earphones, turn on my ipod and picture a far less stressful time in my future. Music is so powerful and has a transcendent quality that allowed me to escape my present world briefly and visualize my goals of becoming a better, faster, stronger self (in addition to hopefully thinner and with my own hair back in place).
My plan with this blog is to tell my story as honestly as possible. Many of the posts will be connected to a corresponding song (that has been downloaded to that post so that you may click on it and listen) that had a powerful impact on me at the time. Each song spoke to me in its own way, helping me address (more…)
Saturday, May 22nd, 2010 by
by Valerie
My husband received some very bad news yesterday.
Before I say what the news is, I need to give a brief history. My husband lost his father to lung cancer at the very young age of 4. Throughout his childhood and teens, he lived with a couple different friends. As you can imagine, he became very close with their parents, especially their fathers. They served as wonderful male influences for him. After he met me, he and my father also became very close. If you have read any previous entries, you know my father passed away in 2007 after a short battle with lung cancer. Two years ago, one of the men he lived with died of a massive heart attack. Well, yesterday, he got a phone call from his best friend (the other family he lived with), and his father was diagnosed with pancreatic cancer.
Life is just so unfair.
I feel for all of the families of these men, my family included. It's hard to watch someone suffer, or (more…)