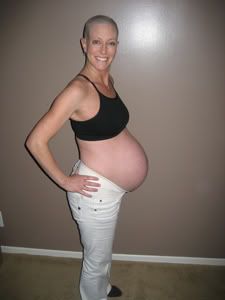 The title of my blog and this first page warrant a bit of explanation. Clearly, I was Bald. And clearly I was Fat. However, when you come to realize that my baldness was caused by chemotherapy and my 'fatness' was caused by being pregnant at the same time, then the mere fact that I was smiling in this photo is evidence that I was also Crazy. Add to this scenario the pending adoption of a baby girl and the Crazy goes to a whole new level.
But what about 'The Musical'?" What is that all about?
Well, in order to survive my situation as best as I could, I needed to develop some serious coping skills. Exercise has always been my usual mechanism for dealing with stress. However, that wasn't an option much of the time for reasons which I will explain later, so music became a major source of therapy. Often I would put on my earphones, turn on my ipod and picture a far less stressful time in my future. Music is so powerful and has a transcendent quality that allowed me to escape my present world briefly and visualize my goals of becoming a better, faster, stronger self (in addition to hopefully thinner and with my own hair back in place).
My plan with this blog is to tell my story as honestly as possible. Many of the posts will be connected to a corresponding song (that has been downloaded to that post so that you may click on it and listen) that had a powerful impact on me at the time. Each song spoke to me in its own way, helping me address (more…)