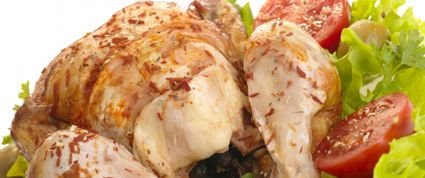 Recipes and strategies for quick work night meals
May and June are busy months. We are closing the chapters on another year of school. For many families, the end of the school year is synonymous with extracurricular activities celebrations and send-offs. Some are preparing to celebrate graduation and the rites of passage for not only the graduate but the family and the transitions that will be marked by the event. To top it off, June marks the beginning of the wedding season. Calendars are most definitely full and having time to make dinner seems to get pushed to the bottom of the list of priorities.
This recipe fills the bill for "quick and satisfying". It takes a little less than 30 minutes from prep to serving and can be rounded out with a fresh green salad for a complete meal.
A couple of helpful hints for multi-task cooking:
Gather and measure all the ingredients in small groupings before starting. Taking the time to line out exactly what you need before you heat the skillet or begin insures that if you are (and you know you will be) interrupted by the phone, husband, kids or a small house fire, you will know exactly where you were in the cooking process when you were called away.
Also, if you struggle with remembering to layout the frozen meat for thawing the night before you need it (I hate it when I do that!), I have a new tip to the rescue given to me by my friend, the chef:
Place the frozen meat on a shiny, metal, cookie sheet for thawing on the counter. The thawing time will be reduced significantly.
I hope you enjoy this rustic, family-style dish!
Zesty Rosemary Chicken and White Beans
2-tsp olive oil
1 ½ tsp. dried rosemary
¼ tsp salt
¼ tsp pepper
8-skinless, boneless chicken breasts (thighs could be substituted)
1-14.5 oz can chopped tomatoes with zesty mild chiles, undrained
2-14.5 oz can navy or white beans (I prefer Cannellini style), drained
¼ c chopped pitted Kalamata olives
Heat olive oil in a large skillet over medium-high heat.
Combine rosemary, salt and pepper; sprinkle over one side of chicken.
Place chicken in pan, seasoned side down, cook 3 minutes.
Reduce heat to medium; turn chicken.
Add tomatoes and beans; cover and simmer 10 minutes or until chicken is done. Stir in olives.
Enjoy!
About the Author:
Jan Fulcher is an Advice Blogger for www.mylifecompass.com, a personal development company for women. Through her work, Jan Fulcher encourages, inspires and educates women to discover their personal hosting and entertaining style. Enhancing relationships and connecting through the art of hospitality is the focus of her message. Having developed her joie de vivre over the course of thirty-three years of entertaining, traveling and training throughout Europe and the United States, Jan blends stories of experience laced with humor and insight. Jan has raised three daughters and has been happily married for over thirty-three years. She brings her passion for family heritage, traditions, friendships and intimate connection to her work with clients as a hospitality coach and speaker.