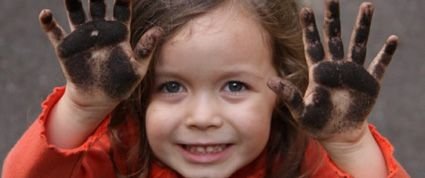 Yesterday was the official first day of spring! Celebrate the blooming season by planting a garden with your kids. The whole family can get in on the fun, from tiny tots to moms and dads with these 7 steps to building a raised garden bed for your family. If you'd like to hone your little one's green thumb, read our gardening tips for kids, and learn how to get your children excited about gardening.
Trying to get your tykes to eat more veggies? They may be more likely to dig in at the dinner table if they dig into the soil first -- by planting and growing their own veggies. Here's how to start a family vegetable garden this spring, 5 ways to enjoy homegrown vegetables with your family, 7 fun, kid-friendly salad recipes that go beyond iceberg lettuce. This handy stone soup garden kit contains all of the ingredients you need to grow to make your own hearty pot of stone soup.
If spring showers are keeping you from venturing outside, this sweet Build-a-Bouquet toy set from Green Toys lets kids design a sustainable flower garden indoors. And these great green gardening books for kids will provide plenty of inspiration for budding gardeners while planting the seeds for a love of reading as well. Happy planting!