| | | | |
| --- | --- | --- | --- |
| | | | |
__________________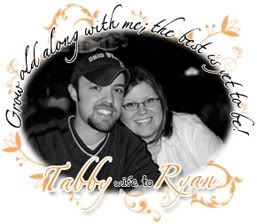 Tabitha & Ryan; Married on Saturday, April 17, 2004 -TTC #1 for 7.5 years. Missing our Angels...
Dx with PCOS at age 14.
Miscarriage in June 2006
2 cycles of Clomid 50mg
1 cycle of Clomid 100mg resulting in miscarriage
Dx with Adenomyosis on 1/28/10
Clomid 150mg 4/30(day 3) - 5/4(day 5) Ultrasound on May 10th.
5/10 - Ultrasound showed 2 perfect follies! (15mm&17mm) Ovulation predicted within 6 days! Progesterone check ordered for 5/20.
5/27 - New round of Clomid started, no ultrasound this cycle, 2 more cycles planned on our own. If no bfp, onto next step!
6/27 - Round 3 Clomid 150mg started.
7/25 - AF Showed, starting final round of Clomid 150mg on CD3
8/21- AF Showed, In the process of finding a new RE
*Waiting to see our new RE



My Personal Links:
My Facebook
My Chart
Follow me on Twitter!
My Personal Blog
Tabby's Craft Corner
Pixel Perfect Photography(My Business)
Pixel Perfect on Facebook
Pixel Perfect on Twitter