I think one of my favorite options on my new phone is the quality camera I have on there. It is the best camera I've had on a phone. Now, it ain't like my Nikon D3000 but hey, I'm not complaining because the pictures still come out great.
The reason this is important to me know as opposed to before is because I have 3 beautiful children that do silly things & sometimes lugging around my big ol' Nikon isn't an option. I can capture that all too sweet moment and not worry about losing it forever.
These are a few pics I snapped with the phone when we were outside playing. I could have brought the Nikon out but didn't feel like it. Still, I am happy with the pictures I was able to get.
Sofi being the Monkey Girl, something we have called her since birth.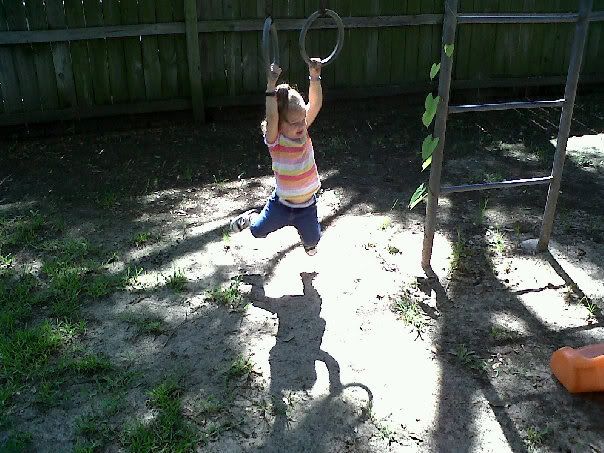 Tio will be very happy to see Ian practicing hoops!
Gabi is practicing for when we let her take over mowing the yard. Love the drink in her other hand!
Even more important, I can snap a quick picture of our "firsts". See, having multiples makes going out difficult. Let me rephrase that, having triplets or more make it difficult to get out. Simply because carts are not made to hold more than one or 2 children. It gets complicated. So, we don't go out to the grocery store as a family. I go alone.
Well, fortunately Todd needed to check out some speakers & Costco had some as well as a basket big enough for 3 kids. Not the traditional way of carting them around but their baskets are super huge so we made it work.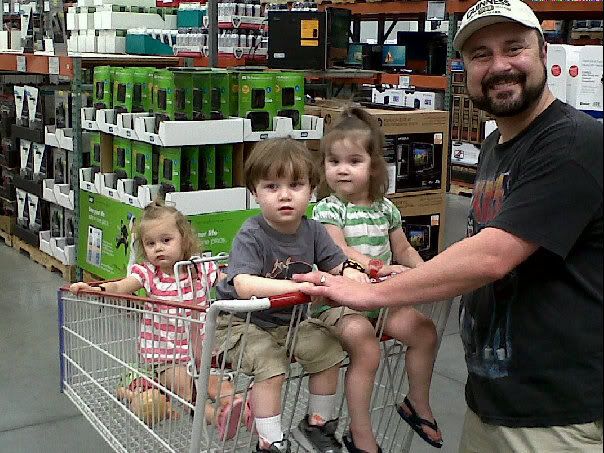 It was also the first time we have gone out as a family to a store. Yes, seriously. Needless to say, that is a Kodak moment AND…
I was able to snap a good pic with my phone! Thank God for my little ol' Blackberry!