For anyone visiting the blog that doesn't know who Mini Moo is (is that even possible? LOL) that is my son Shawn. We've been checking out the Biddy Belly for a couple weeks now. When Robin Tacchetti, physical therapist and creator of the Biddy Belly, emailed me about this I knew I wanted to check it out. The timing was perfect. Shawn is three months and really needs to be doing more tummy time.
Like most of my kids, Shawn hates tummy time. We had been trying to fit in more tummy time, but every time I would put him on the floor he would sticky his little drooly face smack to the floor and start screaming. He wasn't lifting up his head during this time, or even trying to. He was too busy being mad that mommy stuck him on the floor. Plus, he doesn't have a whole lot of upper body strength yet, exactly why he needs to do tummy time, so he was getting frustrated.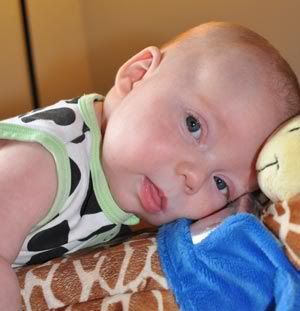 The Biddy Belly is a tummy time playmat that is specifically designed to help your baby strengthen his upper body. The legs of the Biddy Belly helps position your baby on all fours and the body has a gradual incline which really helps to support your baby's upper body. These were the two features I liked best about the Biddy Belly. Shawn was able to lift up higher and he was less frustrated with tummy time because he could rest his head on the body of the giraffe when he was tired.
I could tell that Robin was a physical therapist by the way she created the Biddy Belly. My middle son Brandon worked with a physical and occupational therapist when he was a baby due to the fact he was premature.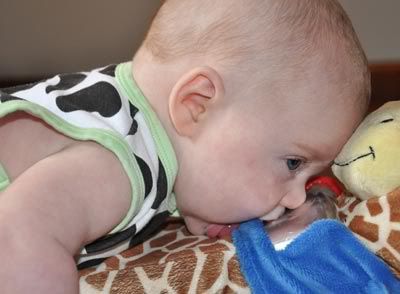 The Biddy Belly has all kinds of features that therapists used to work with Brandon. The top of the giraffe has a mirror, which babies love. The nose has crinkly material inside. One of the horns jingles when you shake it and the other squeaks when you squeeze it. All of these noises and textures are great for sensory development. There are also toys that come with the Biddy Billy that you can take off and play with or leave on and see if your baby will go after them. Since they are velcroed on, you can easily switch these out with any toys your baby likes.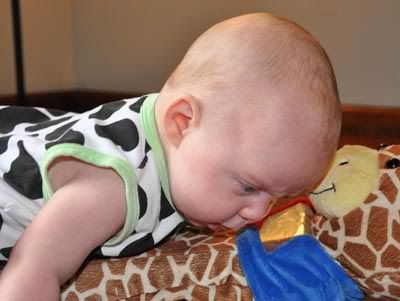 What do Shawn and I think of the Biddy Belly? We totally dig it. Shawn did so much better at lifting up his head during tummy time with the Biddy Belly. He still doesn't love tummy time. From what Robin says though, this is totally normal. I've tried some of the other tummy time techniques like putting him on my chest or across my legs. He likes these positions better than tummy time on the floor, but he still didn't really like it. With the Biddy Belly, I was able to get Shawn to cooperate with tummy time for much longer spurts. Some days he would stay on the mat for five or ten minute stretches before he would get fussy but other days he would start crying pretty quickly. I am really hoping that this will help Shawn developmentally.
I am not the kind of mom that goes out and buys every toy or gadget made for babies, but this is one that is affordable for most moms and serves a great purpose. Since it has so many added features, like textures and toys, I think most moms and babies will love this!
You can order the Biddy Belly from BiddyBelly.com and it is also available on Amazon.
*The Biddy Belly was provided to me free of charge for the purpose of this review.