If you're in the market for baby bottles, you have particular needs if you're a breastfeeding mom. You want to look for a bottle that mimics the motion, flow and feeling of breastfeeding to avoid "nipple confusion," which is when baby uses a bottle-feeding technique on your breast, leading to a difficulty latching on. If you have to use a bottle in the first few weeks, while baby is still learning to breastfeed, use one that is as close to the real thing as possible. This will ensure a smooth transition between breast and bottle.
Here are some of the top-rated bottles for breastfed babies.
Comotomo
Comotomo bottles are squeezable and soft, designed to mimic the feel and function of breastfeeding. At the beginning of feeding, you can gently squeeze the bottle to give baby a "let down" experience, similar to nursing. Comotomo bottles are made entirely of 100 % medical grade silicone, and are free of BPA, PVC or phthalate materials.
A dual anti-colic vent system ensures that air goes in and only milk comes out, which can help reduce colic, burping, gas and spit up. Cleaning by hand is a snap, since the bottle has a super wide mouth and four pieces, including the lid. It's also safe in the microwave, boiling water, dishwasher and sterilizer. The bottle is sturdy and virtually unbreakable.
Baby can get every drop of milk without having to tip the bottle upside down, as with some other products. The silicone keeps pre-warmed milk warm for about half an hour, but the bottles do take a long time to heat up in a bottle warmer.
While the egg shape is great for baby to handle and use, it also tips over easily while filling. Due to the soft silicone material, screwing on the collar over the nipple is more difficult than with other bottles. Measure marks are difficult to read on the bottle, though they are etched into the silicone, so they won't be washed or rubbed away over time.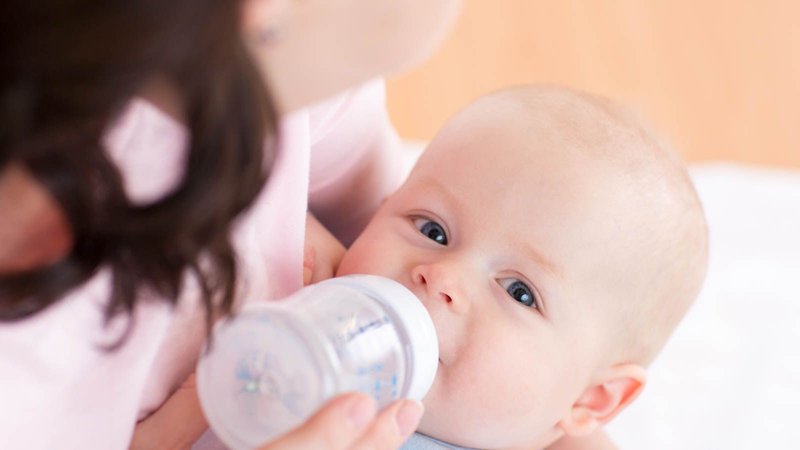 Mimijumi
The naturally colored nipple on the Mimijumi bottle is soft and wide, and features graduated textures to mimic the feel of an actual breast. The bottle is angled for even milk flow and to copy baby's position while nursing. The wide bottle and nipple make cleaning by hand easy, and the nonslip base prevents tipping and spilling.
The bottle is made of BPA-free, food-grade silicone and plastic. The nipple is just one piece, rather than nipple and collar, which means less to clean. It also comes with a top that snaps on tightly to keep the nipple clean and prevent leaks while transporting.
The biggest disadvantage of these bottles is the price, since a bottle is about $29.
Tommee Tippee Closer to Nature Bottle
The Tommee Tippee Closer to Nature Bottle rates highly with moms due to its breast-like nipple, anti-colic valve, compact design, ease of cleaning, and budget-friendly price.
The soft silicone nipple feels like skin and is designed to gently elongate and flex during feeding to mimic breastfeeding. The valve on the nipple eliminates excessive air flow, meaning baby gets more milk and less air.
The bottle is contoured and compact. It is easy for baby to hold and grip, and takes up little space. Volume marks are clearly labeled on the outside, and testers found very little leaking.
The bottle, which comes in polypropylene or glass, has four parts, including a lid, and is wide and easy to clean. The bottle and nipple are microwave and dishwasher safe.
One disadvantage is that the wide area just below the nipple can trap milk, making it necessary to turn the bottle almost completely upside down to get the last bit of milk out. Also, the vent is located on the side of the nipple and can sometimes get blocked by baby's mouth or little hands while feeding.
Dr. Brown's Natural Flow Wide Neck Bottle
The silicone nipple on Dr. Brown's Natural Flow Wide Neck Bottle has a broad base that many breastfeeding moms like. Its patented two-piece internal venting system funnels air from the nipple collar to the back of the bottle, keeping baby from swallowing air.
Testers have found the bottles to be fairly leak-proof, both during feeding and transporting.
Dr. Brown's U.S.-made bottles are made of polypropylene and are BPA, PVC, lead and phthalate free. The nipple comes in a variety of flow options, and the bottle comes with one cleaning brush and instructions.
The one drawback consistently noted is that the complex venting system can be difficult to assemble. It also requires a mini brush – and some time and patience – to clean. If you choose not to use the venting system, the bottle is more likely to leak.
Philips AVENT Natural Bottle
The Philips AVENT Natural Bottle was recently redesigned to mimic nursing. The silicone nipple features an innovative petal design on the inside that aims to prevent nipple collapse while increasing softness and flexibility. The bottle also features a twin valve, anti-colic vent system designed to keep air out of baby's belly.
The bottle has a wide-neck design, and its four components are easy to clean, with no nooks and crannies for milk to hide in. Volume marks are clearly printed on the side of the bottle, which is made of polypropylene and is BPA free.
Some moms have complained of the difficulty in getting the collar on just right. The bottle tends to leak if the collar is over- or under-tightened. Also, the nipple is smaller and narrower than some other products, though this isn't necessarily a problem for latching on.