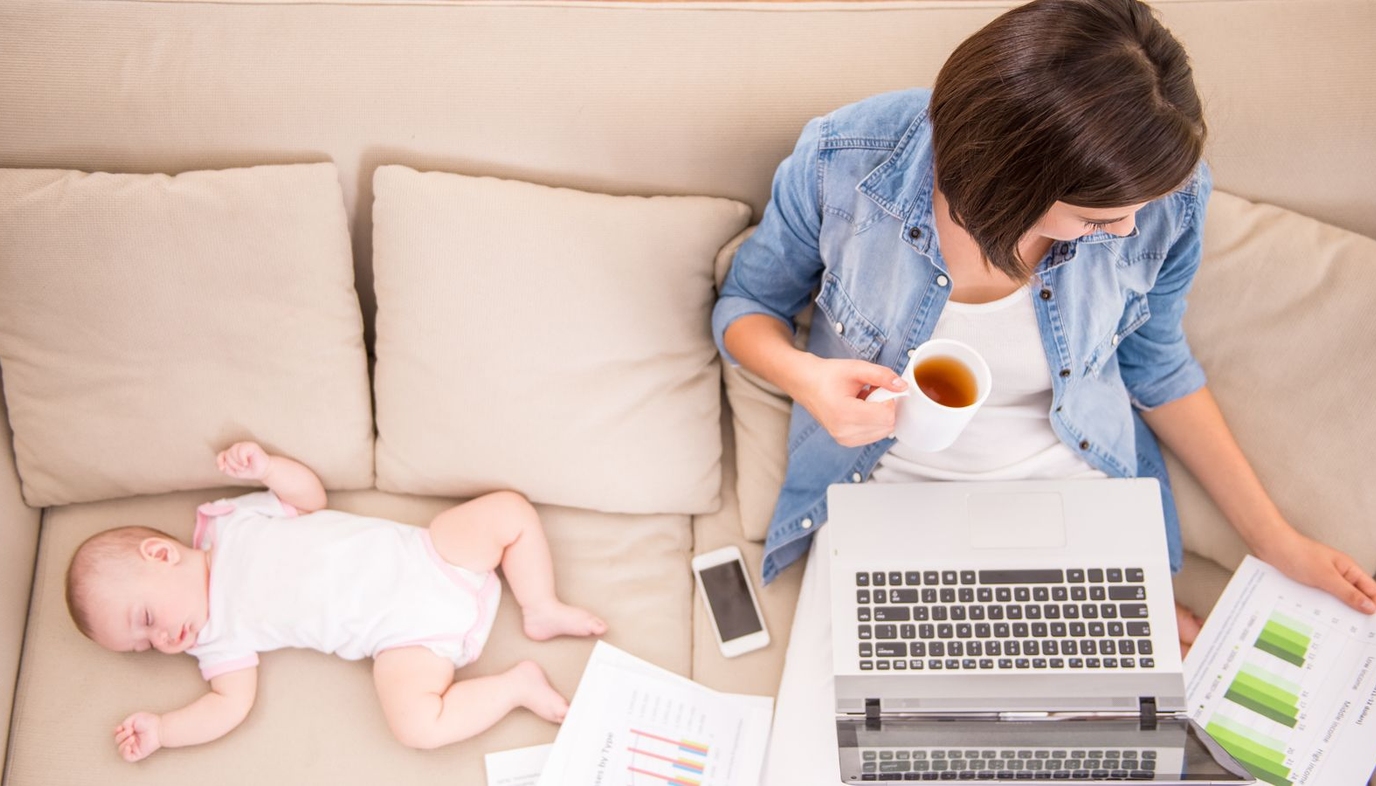 For many moms, the idea of earning money from home rather than trekking off to an office each day has a great amount of appeal. You can get to work in an instant, do your job in your sweatpants if you like, and be at home for your kids when school is out. But setting up that situation for yourself – and making it financially viable – can be tricky. So how do you become a work-at-home mom?
Understanding Work From Home
First, let's clarify some terminology: All moms "work" at home. Whether they stay at home with their kids, or whether they go to an office during the day, moms often do more "work" at home than anyone else in the family. For the moment, we're going to refer to "work at home" as earning money from a job that you do in your own house.

You can start by assessing your skills, interests, and previous training to decide what you want to do. Are you a writer, photographer, or designer? Do you have specialized healthcare or engineering skills? Is your expertise in marketing or merchandising? And most importantly, what do you love to do? Can you combine your interests with your skills? For example, if you have a background in web design but you love knitting, maybe you could start a home-based business selling customized knitted items online.
Next, think about how, when, and where you can get some work done. If you have an infant who sleeps on and off throughout the day, you'll need to find something that doesn't require a commitment of large blocks of time. If you have young children who come home from school at two o'clock in the afternoon, you'll need a job that you can work on primarily in the morning. And if your work is going to require you to be on the phone, you'll need to find chunks of time when you won't be interrupted by your little ones.
You'll also want to establish some space in the house to organize your work activities. Do you have an office, or a desk, or even a corner of the kitchen where you could keep your computer and some paperwork? It's important to be able to define your space so that you can make a clean separation between your "work-work" and the rest of your life at home. Plus, you don't want to run the risk of losing important documents.
Finding Support While Working From Home
Next, reach out and make some connections. There are thousands of moms who work at home in some form or another, and you can find plenty of networking and job ideas online. Some resources for moms include wahm.com, Work at Home Mom Revolution and Bizy Moms. And of course, don't forget the JustMommies community boards for ideas and resources.

Now it's time to get to work! If you're starting your own business, you'll need to put together your web site and/or business cards, start marketing yourself, and find clients. If you're looking to get hired by someone else, it's time to start pounding the (virtual) pavement. You can work one of two ways: Search for companies who are currently hiring, or search for companies that you'd like to work for and then send resumes and work samples or portfolios to them.

Many moms find that it helps to put their short-term and long-term goals into writing. That way you can periodically check back to make sure that your efforts are directed toward your long-term goals. It's also important to allow some room for flexibility. If you find out that you can't manage the time commitment, for example, or if you suddenly find yourself without a babysitter, you'll need to be able to modify your plans.

If it turns out that working from home works for you, there's no limit to what you can do. Some moms have built incredible business empires beginning at home – such as Julie Aigner Clark of Baby Einstein, or celebrity chef and restaurant owner Paula Deen. If your dream is to make some money while being at home with your kids, there's no reason why you can't succeed – perhaps beyond your wildest dreams.