Baked Spaghetti
Try this quick and easy twist on traditional spaghetti.  Here's the recipe.
Mexican Lasagna
If your family likes Mexican food, they will love this recipe.  It only takes a few ingredients to whip up this tasty Mexican casserole.  Check it out here.
Mini Pizzas
When you need an easy meal that your kids will love, try making mini pizzas out of English muffins. Spread a little pizza sauce (or regular spaghetti sauce) on the muffin, top with your favorite pizza toppings, and put them in a 400 degree oven for 10 minutes or until cheese is melted and bubbly.
Baked Macaroni and Cheese
What kid doesn't like macaroni and cheese?  Try this scrumptious baked macaroni and cheese recipe and watch your kids gobble it up.  Here's the recipe.
Chicken Quesadillas
Need to make a meal in a hurry or a quick snack for the kids?  Try these warm and cheesy chicken quesadillas.
Quick and Easy Chicken Quesadillas
Sloppy Joes
Instead of cooking canned Sloppy Joes for your crew, try this recipe.  It is so easy that you may never make canned Sloppy Joes again.
Shepherd's Pie
Shepherd's pie is a yummy comfort food.  It sounds like a lot of work to make, but it doesn't have to be.  Try this really easy recipe made with instant potatoes.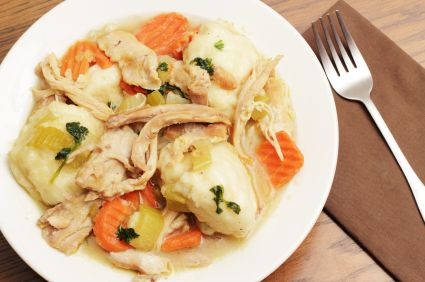 Crock Pot Chicken and Dumplings
If you have fifteen minutes, you can have chicken and dumplings for dinner tonight.  Just get everything together in the morning and add the dumplings when it gets close to dinner time.
Crock Pot Chicken and Dumplings
Tater Tot Casserole
If you've never made tater tot casserole, you have to try it.  It's a kid-pleaser and oh so easy. 
Crock Pot Salsa Chili
During the winter months nothing warms you up like a steamy bowl of hot chili.  Served over chips, this is so good!