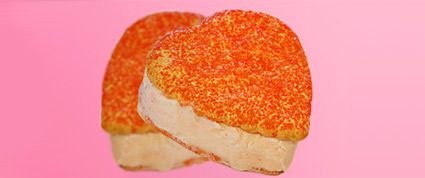 These Valentine treats are sure to please. Make them ahead of time or let your guests be in charge of creating their very own sugary treat!

To make these Valentine ice cream sandwiches you need sugar cookies, sprinkles to decorate the cookies, and your favorite flavor of ice cream.

Make the sugar cookies ahead of time. Use your favorite sugar cookie recipe or buy already made cookie dough. Use heart shaped cookie cutters to make the cookies. Bake in oven following the package instructions and let cool. Store for later.

When the kids arrive let them decorate the cookies with their favorite colored sprinkles. Help them fill their cookie sandwiches with ice cream. Then they can gobble them up!

You can also make these ahead of time and set in the freezer until you are ready to serve them.